Home » Tutte le news sugli U2, U2 The Joshua Tree Tour 2019
Gli U2 e il quarto concerto del The Joshua Tree Tour 2019 a Melbourne
Gli U2 si esibiscono al Marvel Stadium di Melbourne, per il quarto concerto del The Joshua Tree Tour 2019, il secondo in Australia, dopo quello di Brisbane:
Il The Joshua Tree Tour 2019 degli U2 arriva in Australia: prima tappa a Brisbane
Quello di oggi 15 novembre 2019 si tratta del ventesimo concerto in assoluto degli U2 a Melbourne.
Il primo show lo tennero allo Sports and Entertainment Centre il 13 settembre 1984, durante la prima leg del The Unforgettable Fire Tour; l'ultimo show, invece, vide la band irlandese esibirsi il 3 dicembre 2010 all'Eithad Stadium (divenuto poi Marvel Stadium), durante la quarta leg del 360° Tour.
Gli U2 arrivano all'aeroporto di Melbourne nel pomeriggio del 13 novembre:
Bono e The Edge salutano i fan dopo l'atterraggio:
https://twitter.com/U2start/status/1194585185574162432
Dal soundcheck del concerto due nuovi brani provati dalla band: I Will Follow e Desire.

#U2Melbourne Soundcheck SPOILER below….#U2 #TheJoshuaTreeTour2019
.
.
.
.
.
.
.
.
.
.
.
Soundcheck with Desire and I will follow

— U2tour (@U2tour) November 15, 2019
Dalla pagine social degli U2 viene anche pubblicato un video del backstage a Melbourne.
Noel Gallagher ed i suoi High Flying Birds aprono la serata di musica al Marvel Stadium, ma qualcosa sembra non andare perfettamente per lo schermo del palco degli U2:
And a screen that is broken, is a screen that is…
Let's hope it stays with sporadic dropouts#U2 #U2Melbourne #TheJoshuaTreeTour2019
(pictures by Maik and Navid for https://t.co/yHKJAQVu0w) pic.twitter.com/83TIPP9QHg

— U2tour (@U2tour) November 15, 2019
Inizia il concerto con gli U2 carichissimi ed arriva subito una sorpresa: I Will Follow a seguire Sunday Bloody Sunday, non esce dalla setlist New Year's Day, che resta regolarmente a seguire la new entry.
Bono introduce Bad con queste bellissime parole:
"Our prayer for tonight is an epic night of rock and roll. Where we let go of some things and hold onto others".

("La nostra preghiera per stasera è un'epica notte di rock and roll. Dove lasciamo andare alcune cose e ci aggrappiamo ad altre")
Per poi chiuderla con lo snippet di Into My Arms, brano di Nick Cave.
Bono poi introduce Where The Streets Have No Name dicendo:
"Are you out there? Are you out there? Spirit in the house…good to have you!"
Bono si lascia andare in un bellissimo snippet di Singing In The Rain a cappella dopo I Still Haven't Found What I'm Looking For.
Molto sentito questa sera il dialogo fra il cantante degli U2 e il pubblico, che incoraggia più volte dicendo:
"What do lovers do? We sing our heart out!"
La band si diverte ancora chiaccherando durante l'ormai immancabile siparietto ad anticipare Trip Through Your Wires:
Bono– "Before U2 Edge and Larry joined a country band: The Drifting Cowboys!"

Larry– "Yeah, we got paid quite more with them than with U2"

Edge– "a lot more, actually: £ 11 and a free drink!"

Adam– "I didn't pass the audition"

Bono – "Neither did I!"#thejoshuatreetour2019 pic.twitter.com/dun7oq2CWf

— U2start.com (@U2start) November 15, 2019
Bono introduce One Tree Hill con la dedica a Greg Carrol, aggiungendo:
"He stayed on board, even if we lost him physically"
Al termine del set di The Joshua Tree gli U2 pubblicano questa foto sui social, tratta da uno dei momenti iniziali di Mothers Of The Disappeared:
 Durante il set di canzoni finali torna lo snippet di Devil Inside degli INXS a termine di Vertigo.
Il concerto si chiude con il consueto trio di canzoni meravigliose quali sono Ultraviolet (Light My Way), Love Is Bigger Than Anything In Its Way e One, accompagnate dal messaggio di Bono per le campagne #PovertyIsSexist e Herstory:
Bellissimo concerto quello di questa sera a Melbourne, finora il più lungo di questo The Joshua Tree Tour 2019.
Prossimo appuntamento con gli U2 a Adelaide, il 19 novembre, per l'unica data all'Adelaide Oval.
Setlist:

Whole Of The Moon (Intro)


Sunday Bloody Sunday
I Will Follow
New Year's Day
Bad / Into My Arms (snippet)
Pride (In The Name Of Love)

Where The Streets Have No Name

I Still Haven't Found What I'm Looking For / Singing in the Rain (snippet)

With Or Without You
Bullet The Blue Sky / The Star-Spangled Banner 

(snippet)

 / America

(snippet)



Running To Stand Still
Red Hill Mining Town
In God's Country
Trip Through Your Wires
One Tree Hill
Exit / Wise Blood (snippet) / Eeny Meeny Miny Moe (snippet)
Mothers Of The Disappeared
Angel of Harlem

Elevation
Vertigo / Devil Inside (snippet)

Even Better Than The Real Thing
Every Breaking Wave (new synth intro)
Beautiful Day
Ultraviolet (Light My Way)
Love Is Bigger Than Anything In Its Way
One / Invisible (snippet)
Trovate tutte le foto del concerto sul nostro album "U2 al Marvel Stadium di Melbourne – U2 The Joshua Tree Tour 2019 (15 Nov. 2019)"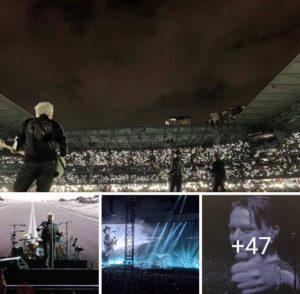 Altri Video
Questo articolo sarà in continuo aggiornamento nel corso della giornata, tornate più volte a visitarlo per trovare ulteriori video e foto dell'evento raccontato.
Articolo a cura di Daniela @daniDpVox
Ulteriori dettagli su U2gigs.com
Foto in evidenza © @U2
Video © U2,Bill Korras, Smili72, BusyIdiot, daveaus99, Chris Sproul, Shannon19782, PsychoAndy689 Clark, Mo Hazan, Nic J
Tags: #U2Australia, #U2JT19, #U2JT2019, #U2Melbourne, #U2NewsIT, Adam Clayton, Angel of Harlem, Australia, Bad, Beautiful Day, Bono, Bullet the Blue Sky, Desire, Elevation, Even Better Than The Real Thing, Every Breaking Wave, Exit, Greg Carroll, I Still Haven't Found What I'm Looking For, I Will Follow, Il racconto del concerto del The Joshua Tree Tour 2019 degli U2 a Melbourne, il racconto del quarto concerto degli U2 nel The Joshua Tree Tour 2019 a Melbourne, In God's Country, La scaletta della data degli U2 nel The Joshua Tree Tour 2019 a Melbourne, la setlist della quarta data del The Joshua Tree Tour 2019, la setlist della quarta data del The Joshua Tree Tour 2019 degli U2, Larry Mullen, Larry Mullen Jr., Love is Bigger Than Anything in Its Way, LoveTown Tour, MacPhisto, Marvel Stadium, Marvel Stadium Melbourne, marvelstadiumau, Melbourne, Mothers of the Disappeared, Noel Gallagher, One, One Tree Hill, Red Hill Mining Town, Running to Stand Still, Setlist foto e video della seconda data del The Joshua Tree Tour 2019 degli U2 in Australia, Shadow Man, The Edge, the joshua Tree, the joshua tree tour 2017, The Joshua Tree Tour 2019, The Little things that give you away, Trip Through Your Wires, U2, U2 Australia, U2 Greg Carroll, U2 One Tree Hill, U2 The Joshua Tree, U2 The Joshua Tree Tour 2019, U2 tour celebrativo 30 anni The Joshua Tree, Ultraviolet (Light My Way), Vertigo, Where The Streets Have No Name, With Or Without You, You're The Best Thing About Me