Home » Tutte le news sugli U2, U2 The Joshua Tree Tour 2019
Un secondo emozionante concerto del The Joshua Tree Tour 2019 degli U2 a Auckland
Gli U2 tornano all'MT Smart Stadium di Auckland, in Nuova Zelanda, per un secondo concerto consecutivo, dopo la data inaugurale del The Joshua Tree Tour 2019 della scorsa notte.
Il racconto del primo concerto del The Joshua Tree Tour 2019 degli U2 a Auckland
Quella di ieri è stata una meravigliosa, ed allo stesso tempo emozionante, apertura di tour con l'intero show interamente dedicato al Māori Greg Carroll, roadie, amico ed assistente personale di Bono, morto tragicamente a Dublino nel 1986, per un incidente alla guida della moto del cantante. Un ragazzo dall'animo gentile e pieno di energie, mai dimenticato dal nostro Bono e dagli altri 3 membri della band, nonostante siano passati 33 anni dal tragico giorno.
Chissà se anche in questa seconda data in Nuova Zelanda, e per il restante tour, la band decida di mantenere la visual con l'immagine sorridente di Greg sul finale di One Tree Hill.
In fin dei conti, l'intero The Joshua Tree è dedicato a lui, e dedicargli un intero tour sarebbe un ulteriore grande tributo.
A meno di un'ora dall'inizio del nuovo show la band pubblica sui social questo video, a ricordare proprio ieri:
Vengono fatti entrare i fan all'interno dell'Mt Smart Stadium:
Sembra che gli U2 durante il soundcheck abbiano provato un brano per la prima volta da quando sono a Auckland:
there was a new song sound checked today that we haven't heard this whole week #U2 #TheJoshuaTreeTour2019

— Vid (@mysteriousdays) November 9, 2019
Intanto, Noel Gallagher ed i suoi High Flying Birds precedono gli U2 sul palco dell'Mt Smart Stadium.
The Edge nel backstage prima dell'inizio del concerto con una delegazione di irlandesi lì per la campagna #whyIreland:
An honour to meet the Edge tonight in Auckland before their show and discuss #whyIreland for New Zealand businesses. An incredible ambassador for Ireland. ☘️#ontheedgeofourseats #U2 #joshuatree #rockagusroll pic.twitter.com/eLYXV1KSNC

— Kathryn O'Shea (@kathrynoshea) November 9, 2019
Inizia il concerto con la consueta Sunday Bloody Sunday ed una band bella carica!
'Cause tonight, we can be as one! #u2 #thejoshuatreetour2019 #u2auckland https://t.co/MWNtuRGEBL pic.twitter.com/WzmTBj5hlO

— U2tour (@U2tour) November 9, 2019
Bono alla fine dell'assolo di The Edge in New Year's Day grida alla folla:
"You really need to hold the Edge up"
Bono, verso la fine di Bad, include stavolta lo snippet di Fall At Your Feet dei Crowded House, gruppo musicale rock, formatosi a Melbourne, Australia e guidati dal cantante, musicista e compositore neozelandese Neil Finn.
A fine Pride, la lunga transizione verso Where The Streets Have No Name, con Bono che la introduce così:
"Dr King, Dr King… in a time of terror… keep us thoughtful… keep us loyal to our highest ideas at the top of which must be community".

"Take us to church, take us to a synagogue, take us to a mosque."
I want to feel sunlight on my face!#u2 #u2auckland #thejoshuatreetour2019 https://t.co/9EYvb0Hd3V pic.twitter.com/skZ4TOp8QR

— U2tour (@U2tour) November 9, 2019
E' poi la volta di I Still Haven't Found What I'm Looking For:
Bono introduce In God's Country dicendo:
"Welcome to side two of the Joshua Tree! If you were listening by cassette, that would've been the bit where you ejected and flipped us over."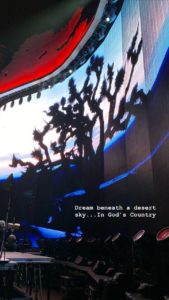 Prima di Trip Through Your Wires Bono dice:

"I was remembering that Edge and Larry had another life as young men, they played for a country outfit in Ireland called the Drifting Cowboys"
Edge risponde:
"There is no money in rock and roll"

Larry dice di aver imparato il Foxtrot proprio in quel periodo:
"I learned to play the foxtrot!"
Bono, rivelando la presenza della famiglia di Greg Carroll al concerto, introduce così One Tree Hill, parlando di come Greg fosse diventato un amico caro per loro, avendoli guidati anche a trovare soluzioni in situazioni difficili:
"On our first trip to these islands… a young man on the local crew told us there was one thing missing on the tour. And it was him! He was kind of smart, savvy dude, kind of beautiful in every which way. We thought we had adopted him, but turns out he adopted us. He steered us through some difficult things. He became a close friend"
Touching! Greg Carroll's family is in the house tonight and the moon feels more real tonight #TheJoshuaTreeTour2019 #U2 #U2Auckland https://t.co/oep5HPJJWZ pic.twitter.com/2xLbtzgcUy

— U2tour (@U2tour) November 9, 2019
Esecuzione veramente toccante anche stavolta e ancora Greg Carroll sullo schermo.
After all these years, still watching over the band. Never forget #TheJoshuaTreeTour2019 #U2 #U2Auckland https://t.co/oKarN4RJW3 pic.twitter.com/1smC4ldZI6

— U2tour (@U2tour) November 9, 2019
Arriva la volta dell'entrata di ShadowMan e la sua Exit:
Di nuovo presente nella setlist Angel Of Harlem a chiudere il set The Joshua Tree, e Bono la annuncia così:
"thanks for listening to the Joshua Tree… this is what came next, thirty years ago!"

E ShadowMan lascia il posto a MacPhisto sulle note di Elevation, al rientro della band sul palco:
E Larry si lascia andare, come di consueto da qualche anno ormai, sulle note della stessa Elevation:
Al posto di Every Breaking Wave, torna, come nell'U2eiTour 2018, You're The Best Thing About Me, con Bono e Edge in acustica!
Bono dedica il brano a suo padre Bob!
You're The Best Thing About Me! That's a bit of surprise! First time this song has been performed since Berlin 3 last year. That makes 2 from Songs of Experience on this tour so far. #TheJoshuaTreeTour2019 pic.twitter.com/8RKfCtpPxA

— U2start.com (@U2start) November 9, 2019
Ad apertura di Ultraviolet Bono chiede:
"When women of the world unite… that's a beautiful day, don't you agree Auckland?"
Poi ringrazia la primo ministro neozelandese Jacinda Ardem:
"like your prime minister Jacinda Ardern who is here tonight. We are honored to be in the presence of a leader who reminds us she works just as hard for the people who didn't vote for her."
… e le immagini luminose di donne sullo schermo si accendono!
#u2 #u2auckland #thejoshuatreetour2019 https://t.co/xGNLr0jagp pic.twitter.com/oUSW0Tp37h

— U2tour (@U2tour) November 9, 2019
Arriva infine il finale con le sempre corali Love Is Bigger Than Anything In Its Way e One.
One viene di nuovo dedicata alle vittime dell'attacco terroristico a Christchurch, Bono conclude:

"It's hard to respond to such hate with such grace, but you did it. From one island to another thank you"

Prossimo appuntamento con gli U2 al Suncorp Stadium di Brisbane, il prossimo 12 novembre, con il primo concerto del The Joshua Tree Tour 2019 in Australia.

Setlist:

Whole Of The Moon (Intro)


Sunday Bloody Sunday
New Year's Day
Bad / 

Fall At Your Feet

(snippet)
Pride (In The Name Of Love)

Where The Streets Have No Name

I Still Haven't Found What I'm Looking For
With Or Without You
Bullet The Blue Sky / The Star-Spangled Banner 

(snippet)

/ America

(snippet)



Running To Stand Still
Red Hill Mining Town
In God's Country
Trip Through Your Wires
One Tree Hill
Exit / Wise Blood (snippet) / Eeny Meeny Miny Moe (snippet)
Mothers Of The Disappeared
Angel of Harlem

Elevation
Vertigo / Rebel Rebel

(snippet

)



Even Better Than The Real Thing
You're The Best Thing About Me (acustic version)
Beautiful Day
Ultraviolet (Light My Way)
Love Is Bigger Than Anything In Its Way
One

Trovate tutte le foto del concerto sul nostro album "U2 2a data all'MtSmart di Auckland – U2 The Joshua Tree Tour 2019 (9 Nov. 2019)"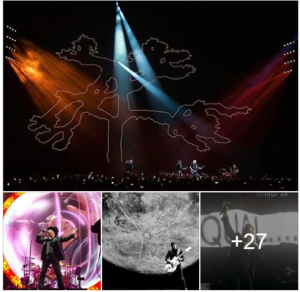 Altri Video
Questo articolo sarà in continuo aggiornamento nel corso della giornata, tornate più volte a visitarlo per trovare ulteriori video e foto dell'evento raccontato.
Articolo a cura di Daniela @daniDpVox
Ulteriori dettagli su U2gigs.com
Foto in evidenza © Erroll Shand
Video © U2, Roger Harris
Tags: #U2Auckland2, #U2JT19, #U2JT2019, #U2NewsIT, Adam Clayton, Angel of Harlem, Auckland, Bad, Beautiful Day, Bono, Bullet the Blue Sky, Elevation, Even Better Than The Real Thing, Every Breaking Wave, Exit, Greg Carroll, I Still Haven't Found What I'm Looking For, Il racconto del secondo concerto degli U2 a Auckland in Nuova Zelanda del The Joshua Tree Tour 2019, Il racconto del secondo concerto del The Joshua Tree Tour 2019 degli U2 a Auckland, Il racconto della seconda data del The Joshua Tree Tour 2019 a Auckland, In God's Country, La scaletta della seconda data degli U2 nel The Joshua Tree Tour 2019 a Auckland, La seconda emozionante data del The Joshua Tree Tour 2019 degli U2 a Auckland, la setlist della seconda data del The Joshua Tree Tour 2019, la setlist della seconda data del The Joshua Tree Tour 2019 degli U2, la setlist della seconda data del The Joshua Tree Tour 2019 degli U2 a Auckland, Larry Mullen, Love is Bigger Than Anything in Its Way, MacPhisto, Maori, Mothers of the Disappeared, Mt Smart Stadium, MT Smart Stadium Auckland, MtSmartStadium, Noel Gallagher, Nuova Zelanda, One, One Tree Hill, One Tree Hill Memorial, Red Hill Mining Town, Running to Stand Still, Setlist foto e video della seconda data del The Joshua Tree Tour 2019 degli U2 a Auckland in Nuova Zelanda, Shadow Man, Stuck In A Moment You Can't Get Out Of, The Edge, the joshua Tree, the joshua tree tour 2017, The Joshua Tree Tour 2019, The Little things that give you away, Trip Through Your Wires, U2, U2 Auckland, U2 Greg Carroll, U2 One Tree Hill, U2 The Joshua Tree, U2 The Joshua Tree Tour 2019, U2 tour celebrativo 30 anni The Joshua Tree, Ultraviolet (Light My Way), Un altro emozionante concerto del The Joshua Tree Tour 2019 degli U2 a Auckland, Un secondo emozionante concerto del The Joshua Tree Tour 2019 degli U2 a Auckland, Vertigo, Where The Streets Have No Name, With Or Without You, You're The Best Thing About Me